Mortgage Rates
Fixed Mortgage Rates Avg. 3.72% (30-Yr), 3.01% (15-Yr) on 2/04/2016
Need a new FHA home loan, or want to refinance for a lower mortgage payment? Freddie Mac shows home loans this week averaged 3.72% for 30 year fixed rate mortgages, while 15 year fixed rate mortgages averaged 3.01%.
According to Freddie Mac, the 30-year fixed rate mortgage (FRM) averaged 3.72 percent with an average 0.6 point for the week ending February 4, 2016, down from last week when it averaged 3.79 percent. A year ago at this time, the 30-year FRM averaged 3.59 percent.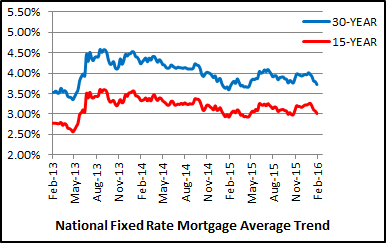 The 15-year fixed rate mortgage this week averaged 3.01 percent with an average 0.5 point, down from 3.07 percent last week. A year ago at this time, the 15-year FRM averaged 2.92 percent.
But what's the rate for consumers? According to Eric Gausepohl, Senior Loan Officer with Summit Lending, "People do not realize that they cannot get the Freddie Mac rate, and that banks have to add 'servicing' to the Freddie Mac rate to quote to borrowers." Eric explained, "If you add about 0.25% to the Freddie Mac or Fannie Mae rate, it will give you the street rate," which is the rate consumers pay. For loan questions, feel free to call Eric at 800-774-7650, or email eglenders@gmail.com.
Source: Freddie Mac, February 4, 2016, available from "Lower-Than-Expected Mortgage Rates Offer Refinance Opportunity"; Internet; Accessed February 4, 2016. The information provided is deemed reliable, but is not guaranteed.
Weekly Mortgage Rate Averages
Every week I report the latest national mortgage rate averages as determined by Freddie Mac. I list the 30-year and 15-year fixed rate mortgage averages, as well as the average points charged for each rate. My chart makes it easy to see the direction that fixed mortgage rates are trending.